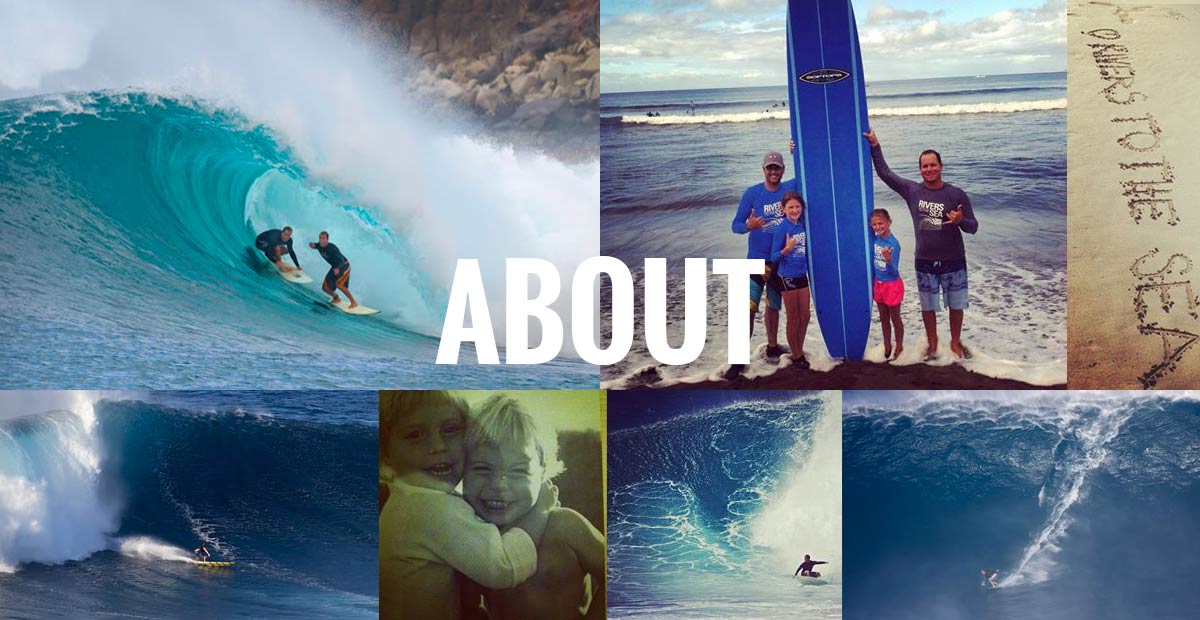 Surfing - the Early Years
For Tide and Kiva Rivers, it seems almost destined that their lives would be tied to the ocean in some way. Born and raised on Maui, these identical twins, were constantly around the beaches of Maui. Their dad was obsessed with the ocean, using it as a therapy for both his mind and body. Their mom, Stella, also loved the beach, spending countless days there with the boys as dad basked in the ocean.
The twins discovered surfing at a very early age. A Kuau neighborhood mentor, "Uncle Jeff", would take them out on his longboard to his secret Paia surf spot on the North Shore of Maui. Soon, the recreation became an obsession for the both of them, sealing their fates as life-long Maui surfers.
Maui's First Exclusive Surf School
Displeased with the notion of big-box, store-style surf schools and generic Maui surf lessons — and stricken with the realization that they could actually make a living sharing their craft — the brothers set out to build their surf school business.
For the company to run as they envisioned it, it was crucial that surf lessons were truly tailored to students' needs. The brothers wanted to ensure that all aspiring surfers had individualized lessons and a fabulous, VIP-level surfing experience. The twins also decided in order to keep the quality of the experience at a high level, they would focus solely on surf lessons — at the time, there were no other activity company that did this. Rivers To The Sea was in essence, the first exclusive surf school on Maui.
Today
Over the years, each of the brothers won several surf contests and garnered professional sponsorships with companies such as Da Kine and Honolua Surf Company. Tide grew up to be a true soul-surfer, in it simply for the love and the thrill. Kiva remains a staunch surf competitor who maintains professional sponsorship by Honolua Surf Company, but remains humble and true to his roots as a soul-surfer as well. Combined, the brothers boast the perfect synergy to foster a love for surfing in anyone.
Today, Rivers to the Sea provides private one-on-one, semi-private and group Maui surf lessons, all private, in a location away from the crowds. The Rivers To The Sea team has taught thousands of people how to surf, and the founders express daily gratitude being able to wake up and do what they love each day.
Absolutely amazballz! Super huge MAHALO to Tide and Kain at Rivers to the Sea surfing. Our family was up and surfing in no time with the incredible guidance of TIDE and KAIN. They made us feel comfortable and confident from the first wave. If you want a real personal surf lesson, learn to surf with these guys.

ischoi, New York (from Trip Advisor)