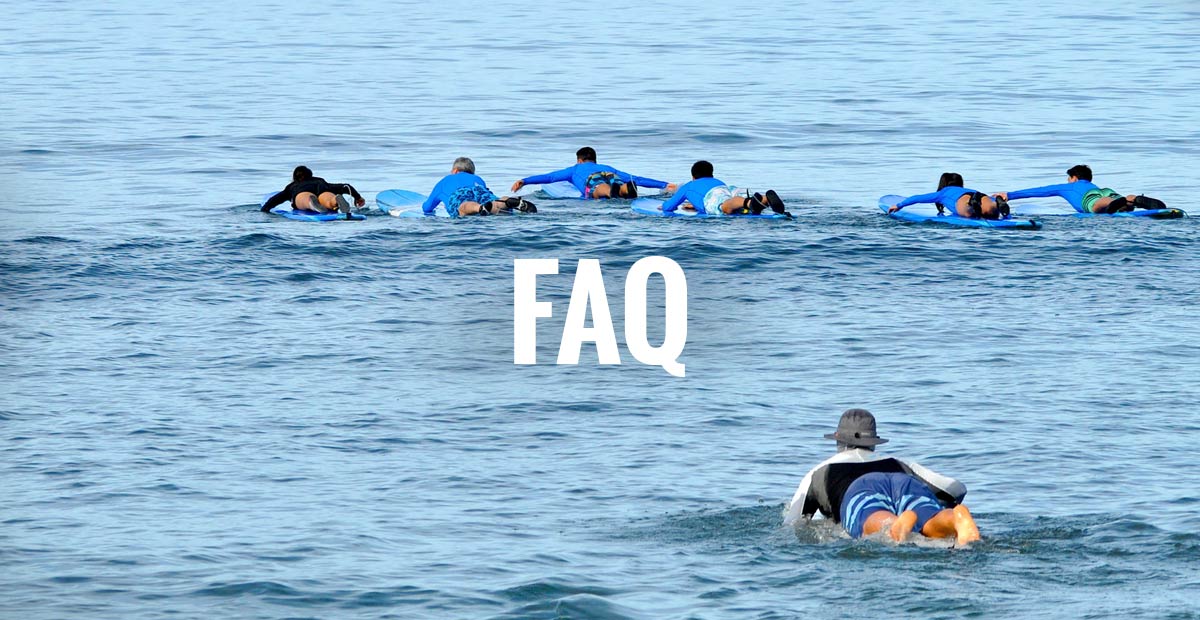 OUR MOST FREQUENTLY ASKED QUESTIONS
What should we bring with us to our surf lesson?
Although Rivers To The Sea provides you with most of your surfing necessities, we don't provide sunscreen, board shorts/swim suits, or towels.
What does Rivers To The Sea supply?
We supply your surfboard (soft-tops), long sleeved SPF 150 rash guard, and protective reef booties. Our surf equipment has been newly updated so it is in excellent, like-new condition. The rash guards, available for purchase upon request, do a great job protecting your entire back, arms and chest, but obviously do not cover your hands, neck or back of legs — so sunblock is strongly recommended!
What is the minimum age for surf lessons?
The minimum age for Group surf lessons is 11 years old. For Semi-Private and One-On-One surf lessons it is 7 years old.
Why do you only teach surf lessons from 7:30am to noon?
Rivers To The Sea specializes in providing our clientele with the best conditions possible, which tend to be in the morning. As the day unfolds, the trade winds pick up and UV rays are at their strongest, and we prefer taking you out during optimal morning conditions!
Do you offer any afternoon surf lessons?
Please contact us directly for all afternoon surf lesson inquiries. We are always willing to take these inquiries into consideration.
When do we pay for the surf lesson?
Surf lesson payment is made at the time of booking through our secure online scheduling system.
What time does my surf lesson start?
Sign up for a 7:30am lesson? Check-in time is at 7:20am. A  9:20am lesson? Check-in time is at 9:10am. A 11:10am lesson? Check-in time is at 11:00am. Your instructor will be on time and show up to meet you at your exact check-in time. To our knowledge, we are the only Maui surf school that allows for a 20-minute buffer between surf lessons. This ensures that your surf instructor will start on time, and that you will get your full 1.5-hour surf lesson.
Should I arrive early for my surf lesson?
Please allow enough travel time to arrive a bit early. We suggest showing up 5-10 minutes prior to the start of your surf lesson. This will give you enough time to prepare for your lesson by applying sunscreen and getting geared up with proper surf attire. These extra few minutes will allow for not only a more comfortable experience, but also, more time in the water! We recommend applying sunscreen on your face, neck, hands and only the back of your legs. Doing this 5-10 minutes prior to your lesson will allow the sunscreen to soak in, be most effective, and ideally, stay out of your eyes.
Once we have parked in the designated location and are ready to surf, what should we look for?
Your Rivers To The Sea surf instructor will be there to meet you at our location 10 minutes before your lesson starts. All we ask is that you are ready to surf!
Are there any health issues that I should be aware of?
Surfing is a high-cardio sport, so if you have had issues with your heart or feeling faint or weak in the past, please be sure to let your surf instructor know so that they are able to keep an extra close eye on you. Should you start feeling faint or weak, please do not hesitate to share this information with the surf instructor so that they are able to get you safely into shore. Please let us know about any existing injuries so that we can be cognizant of that during your lesson.
Will Tide or Kiva always be our surf instructor?
Typically Tide or Kiva are the default surf instructors. However, there are times when even these high-energy brothers need to take a day off or are already totally booked up on the day of your lesson. When this is the case, you will be met with enthusiasm by one of our other fantastic surf instructors from the Rivers To The Sea team, all local Maui surfers, and all CPR and first-aid certified. If you are partial to having one of the Rivers brothers teach you how to surf, please make a special request in our notes or give us a call and we will do our best to accommodate. But be assured, you will not be disappointed with anyone from our team.
What is your cancellation policy?
Surf lessons must be cancelled 48-hours prior to lesson start time or you will be charged full-price for the lesson.
Thank you to Duke for a wonderful experience! His instruction was top notch. He took the time to explain the importance of protecting the reef and the spirit of Hawaii. And how to keep positive! We appreciate his kindness and patience.

Farrell E (from Trip Advisor)