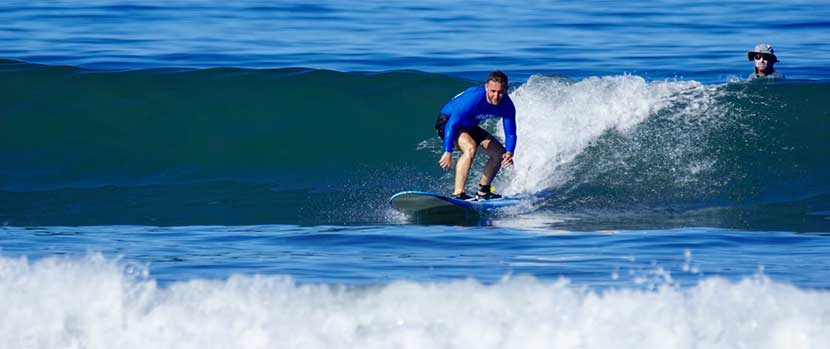 Maui is a great place to give surfing a try, and with Rivers To The Sea, we make the transition from sand to sea an easy experience. Here are some great tips for beginner surfers.
Size Does Matter
For beginner surfers the ideal surfboard size is 9 to 11 feet. It offers plenty of room and more stability for paddling out and standing up. The larger sized boards make it much easier because you have more support under your body. We recommend soft top boards. Soft top surfboards make paddling on your chest more comfortable because they have padded decks.
Gear Up
To protect yourself from getting a rash from the surfboard or even getting a sunburn, it's important to wear a long sleeved shirt and board shorts that reach down to your knees. Maui has several awesome surf shops, such as Honolua Surf Company, that will have what you need.
Wave Check
When you're first starting out, the best size waves are in the 1 to 2 foot range. It's also best to hit the waves in early morning or late afternoon when the winds are at their lightest. Some of the best spots on Maui to go surfing are on the south side of Maui: Ukumahame Beach, Guard Rails Beach or Launiupoko Beach. Our surf lessons take place at Guard Rails Beach, the perfect spot to learn how to surf, without the crowds.
Channel Your Surf
Use the channel when you're finished riding the wave. The channel is where the water is deeper around the breaking waves. Waves don't break in the channel, so think of it like getting onto the sidewalk to paddle out for your next wave. It's better than trying to paddle back through the surf break where waves keep breaking, making it much harder to get out.
Keep Your Eyes Up
It's important to keep your eyes up when you're ready to stand up since you're going to surf in the direction you are looking. Keeping your eyes up increases your chances of standing and staying up. Keep those knees bent nice and low for improved balance.
Stay Safe
It's a good idea to talk to local surfers or with Maui County lifeguards before you hit the waves. In Maui, these people are the best resource for how to stay safe while riding those waves.