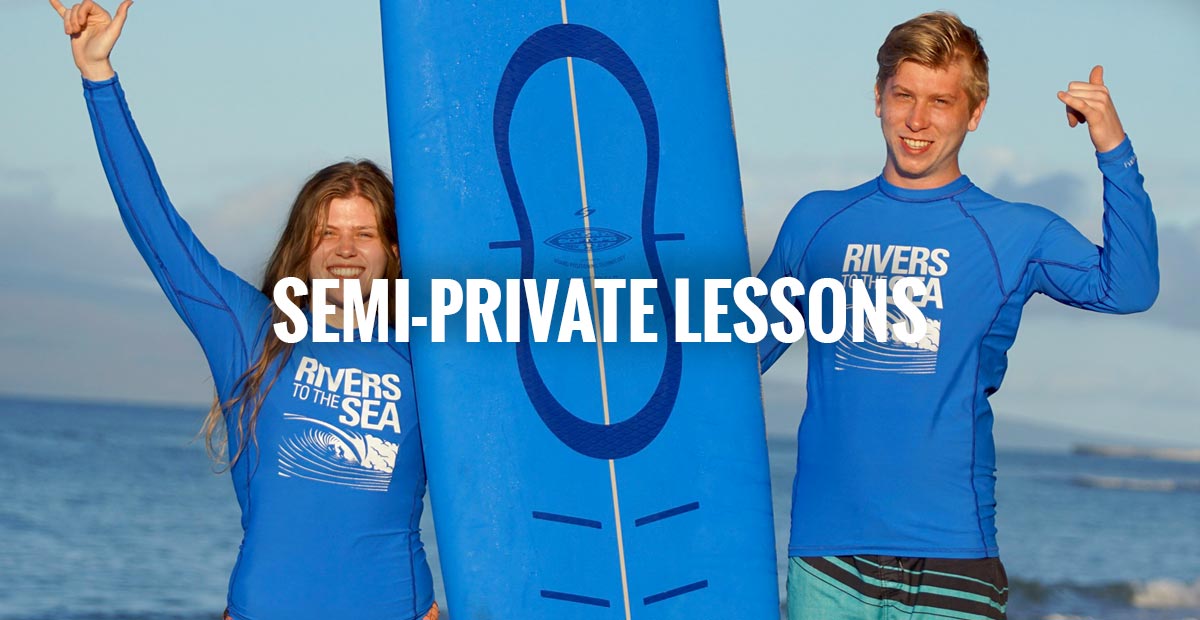 BOOK THIS LESSON
Surf Lesson Highlights
For 2 people.
Learn to surf away from the crowds at our favorite beginner surf break.
All instructors are fun and professional Maui-native surfers
Perfect for first-time or intermediate surfers looking to improve their skills.
Like-new equipment (surf boards, surf shirt, surf shoes).
Fun for friends or couples.
All surf lessons are private and personalized for two.
Ages 7 and up are welcome.
Rates
$139.50 + tax - Per person
SEMI-PRIVATE SURF LESSONS OVERVIEW
The semi-private surf lesson, which is formatted for two people, is a perfect way to learn surfing techniques with someone by your side. While you will have an ample amount of individual attention during this lesson, having someone by your side to share your surfing experience with will make it that much more memorable and fun!
Lesson Times
7:30am, 9:20am, 11:10am seven days a week
We recommend early morning surf lessons as surf conditions and crowds tend to be best at that time.
Duration
1.5 Hours
Gear Provided
SPF 150 rash guard
Protective reef booties
Top of the line (soft top) surfboard
Things to Bring
Sunscreen
Towel
Water
Camera
Your Safety is Our Priority
All surf instructors at Rivers to the Sea are CPR and First Aid certified and maintain consistent training. Your safety is our number one priority!
Students use safe, soft-top surfboards. Fiberglass surfboard rentals may be available for experienced surfers. Additional fees may apply. Please inquire in advance.

Quick Details: For parties of 3 or more. Gives your entire family or group a chance to share in the fun of learning to surf together.
Duration: 1.5 Hours
Ages: 11+
Price: $119 + tax - per person for groups of 3-6 people.