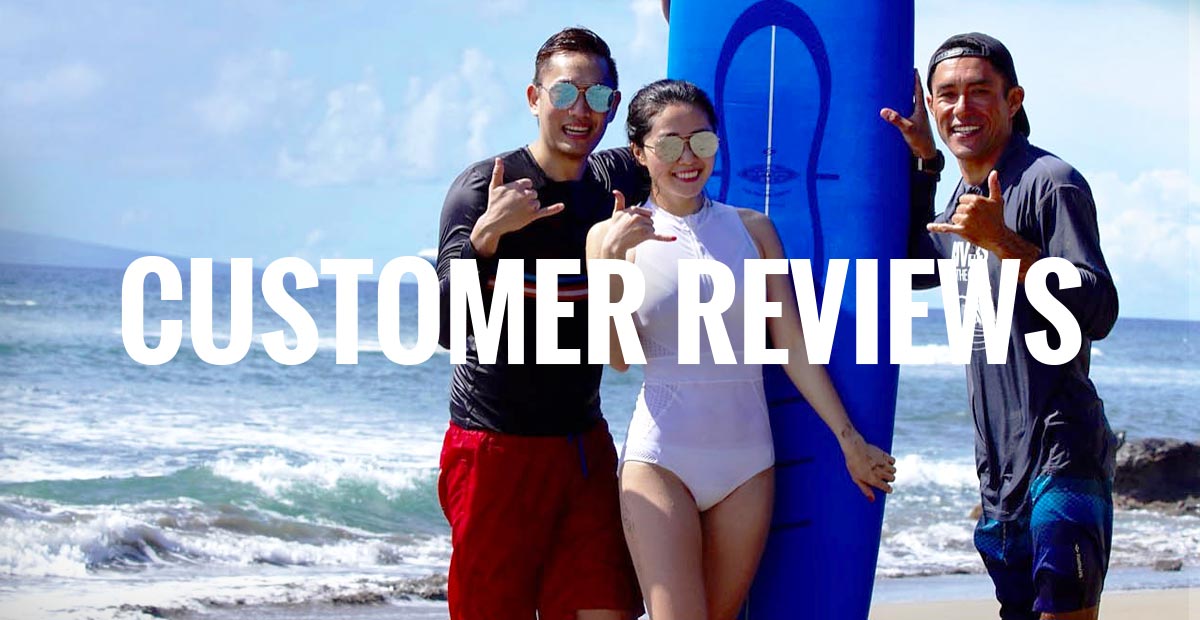 Incredible experience!
Forget all the big commercial/tourist places to learn to surf. Rivers to the Sea crushes them all. Tide's local knowledge of the surf and incredible teaching techniques had my kids up and surfing on their on their first waves! Not a lot of time spent on shore either, so they had plenty of time to improve their techniques on the water. If you're looking for the best place on Maui to learn to surf, I highly recommend Rivers to the Sea!
Chuck K
Eugene, Oregon
Amazing experience
We had an amazing experience with Duke! Very impressed with his knowledge, safety & talent. Duke made this day so much fun for us and a memory will cherish forever. We both got up surfing and a young man was on the beach and got an awesome photograph of the two of us surfing side by side. Duke was so patient and made our day so much fun, we still smile today every time we look at our photo. Thank you Duke!! Many blessings to you and your family We will be back!
Cheryl H
Hartland, Wisconsin
Great time learning to surf!
My husband and I were visiting Maui for our anniversary and after reading lots of reviews, decided on Rivers to the Sea. I am so glad we did! I have never surfed and my husband has only tried a couple of times so we weren't expecting a lot going in to the lesson but Jason was an amazing instructor and we had a great time! We were both up and surfing quickly. I can't say enough about Jason's professionalism, knowledge, and patience-thanks for a great lesson!
Bellabo12
Baltimore, Maryland
Best surf lessons on Maui
Very detailed surf lessons so you actually do get up and surf. Safety conscious so you always feel safe and well taken care of. This was our second time with this company over the years.
Would recommend to families, couples, singles, people like me in their 60s even Instuctor well able to relate to my two college age kids as well as myself. They really are the best on Maui.
We tried a different one once but they were way too hang loose and no one felt they learned. With Rivers to the Sea you get seasoned professional instructors and you'll learn all you need to learn to surf.
ElizabethStreetMoM
San Francisco, CA
Amazing experience
Kiva is an great teacher and person. He definitely teach you to ride waves even though it was my first time for me and 4th time for my daughter. He adapted the style for us and even my 4 years old daughter catch a few unforgettable rides. But more importantly, I think the best of the session was the privilege of spending time with him, sharing his stories, philosophy of surfing and a unique passion for passing on all his experience.
789marianod
Simply the best surf lesson!
We had heard great things about River to the Sea lessons and they delivered. Kody was fantastic! He is a world class surfer and standup paddler who possesses incredible skill and knowledge and, importantly, he has the ability and patience to teach beginners as well intermediate surfers.
My teenage (16) son and I both noted how well Kody conveyed the basics to us before we even entered the water. Both of us were up and easily riding waves within the first couple of attempts.
Rivers to the Sea was very organized and professional throughout. They provided high quality equipment (boards, water shoes, and shirts). The location was convenient ....and not crowded!
Highly recommended!
jbs2716
New Canaan, Connecticut
Great lessons with great guys
My three boys (11,9, 6) all took their first lesson ever from Kain. He was really good with them and had them up within minutes of being in the water. They loved it so much we came back the next day for another lesson. The owner of the company, Tide, was also there and he was very cool and accommodating. Would highly recommend this as part of your vacation in Maui.
Andrew S
Excellent Surf Lessons
Really accommodating service. They have been doing this for a long time and it shows. We had to cancel due to wind concerns and they made every effort to assure us it was ok to surf. We changed days last minute and they made it work, the owner even reached out personally to assure us the surging would be excellent. And it was. My girlfriend and I had a great lesson and we both returned to Los Angeles ready to try surfing on our own. Highly recommend Rivers to the Sea. You won't be disappointed.
Marco Z
Los Angeles, California
We took our kids and grand kids to Maui last July. The one thing they all wanted to try was surfing. Rivers to the Sea seemed to have the best reviews and they did not disappoint! ...raved that this activity was the most fun they had all week and would love to go again!

grams-gramps Fanwood, NewJersey
10 STARS!!!!!
This is a must do and Rivers to the Sea is the BEST! Tide had our entire family of 6 up and surfing immediately. It was amazing! The location was perfect. It felt like we had the beach to ourselves. By the end of our lesson we felt so confident we actually went out a couple of days later to practice our new skills with great success! Thanks Tide!
Denise M
Long Island, New York
Wonderful experience
Our teens had a lesson with Duke (I hope the name is correct) on Saturday morning 7/1 at 7:30 a.m. He was waiting for us at the designated spot at mile 19 when we arrived and offered a warm, friendly welcome. He had all of the gear set up for our kids (ages 16 and 20) who were to be surfing and had a chair set up for mom on the beach. He lead us to an open spot where he and the kids were the only surfers on the water for the first hour. The kids felt supported and encouraged by him and thoroughly enjoyed their lesson; each of them got up on the board many times. They felt that he was entirely supportive and helpful but also gave them independence to see what they could do. As he walked us back to the car, I was impressed to see him collect large pieces of trash from the beach that he brought back to the car for recycling or trash. Definitely recommend Rivers to the Sea.
leanncm
San Jose, California
Best time in Maui
Our instructor Jason was great. He was knowledgeable, chill and really set us up for success. He got us up and riding waves in no time. A local guy, we definitely were in good hands. He even had a fresh water rinse ready for us after the lesson. Tide the owner was also in the ocean with a student and he gave us a friendly hello. He seems like an awesome guy too! We highly recommend Rivers to the Sea. Do it!
ramos415
San Francisco, California
These guys are a class act! Awesome experience!!
These guys are a class act! Awesome experience!! Seriously these guys are awesome! We were a little cautious about surf lessons but am so glad we researched, found these guys and did it! Our 6 year old twins had a BLAST! They got up on several waves.Our instructor was Wangdu and we met both Tide and Kiva too. They were all great! You can tell these guys have a passion for what they do and are good guys! I can't imagine going anywhere else. We will be back!
CADI7
Orange, California
Exceeded all expectations!
This is my first review, and what a perfect opportunity! Rivers to the Sea exceeded all expectations. We were the first group of the day, and our instructors, Tide and Jason, met us on time and had everything set up and ready to go. We had four kids (ages 5-11) in our group with no experience, along with two adults with limited experience. Tide and Jason worked in tandem getting everyone up and surfing in no time! All four kids got up time after time with the help of the instructors. Great photo/video opportunities! Both instructors were extremely positive, helpful, supportive, and just fun to be around! The location was also a great learning environment and easy to find. Most importantly, the kids all LOVED it. They had great experiences that day, and at the end of our trip each kid said surfing was their favorite activity. Thanks again to Tide and Jason! We will definitely go through Rivers again next time we're in Maui!
John R
Livermore, California
MADE MY WEEK
I can not begin to say how amazing Tide the instructor was. We purchased a semi private class for my husband and 12 year old son. He was so patient, kind, and amazing. He quickly gained my sons trust and had him surfing waves by himself. He was behind him ensuring his safety at all times. He had great stories about the ocean and after the class was over he even suggested local eating locations. We will come back to Maui EXCLUSIVELY for more lessons from Rivers To The Sea. The highlight of our trip!!!
Highly recommended!
Nancy E
Surf lesson for beginners
Review of: Private Surf Lesson for your group of 3-5 Near Lahaina Thank you to Duke for a wonderful experience! His instruction was top notch. He took the time to explain the importance of protecting the reef and the spirit of Hawaii. And how to keep positive! We appreciate his kindness and patience. Would definitely recommend Rivers.
Farrell E
Great surfing experience!
We had Tide and Jason take our 8 person group out on lessons near Lahaina in great conditions and loved it, we have tried surfing with other companies and this one was far better. We had a range of ability and ages(12-50) and the instructors helped us all. For the less experienced, Tide and Jason helped them get up and catch waves with the occasional push, as well they helped our more advanced members turn and ride good waves. We had a great time with these two knowledgable, nice instructors showed us a good time and I feel like i could now catch my own small waves.
Nick S
Intro surf lesson
My wife and I took an anniversary trip to Maui and found our instructor to be excellent. We covered the basics on land and how to "read" waves, we both got up on the board that day. A number of times our instructor towed my wife around to get her into place, certainly over and above service, highly recommend.
pfenton89
Great first surfing experience!
My husband and I booked lessons with Rivers to the Sea during our honeymoon and really enjoyed the experience. Our surf instructor Jason was incredibly patient with us and made the whole lesson very enjoyable. He gave us great tips throughout the lesson and made sure to help us catch the best waves. We're already planning on booking another lesson with Rivers to the Sea on our next trip to Maui.
Callie N
Incredible Time - Our Favorite Activity
This was our favorite activity while we were in Maui. We were recommended to Rivers To The Sea by the Ritz Carlton concierge and we couldn't be more thankful. Tide, our instructor, was very knowledgeable, helpful, and had us standing up on our first waves. We definitely recommend him and Rives To The Sea to anyone that is looking to learn to surf or to just have a great time.
JonTheTomato
Atlanta, Georgia
Must-Do Activity in Maui!!
I'll admit it - I was very skeptical about their "we'll get you standing up" promise, but they did -- on the first try!! My sister and her 13-year-old twins and I took surf lessons last week while visiting Maui, and had a BLAST! This was probably our favorite activity of the whole week, thanks to Kody's patience, positivity and expertise! Do yourself a favor and sign up for a lesson!!
Julie862
New Jersey
Yes, mom can surf too.
I am a doughy 50-year-old whose main role in family adventures is to cheer and take the photos. Upon discovering that my girls (8 and 12) believed my favourite exertion was shopping, it became clear we -- all of us -- needed to learn to surf.
Rivers to the Sea doesn't have as many reviews as a couple other places. It should. Tide and Kain were patient, kind and incredibly successful tutors. They chose a spot with perfect gentle curls for beginners and their on-shore instruction was simple, clear and easy to remember. After 15 minutes on the sand, all of us felt pretty confident in the carry-over to water.
Our 14-year-old son, an enthusiastic boogey boarder but otherwise unathletic, was up on the board first try. The always balanced and graceful 12-year-old did same. The eight-year-old had one-on-one attention with Kain and despite a few wipeouts that had her timid and reluctant, Kain and Tide got her going again and she was popping up on the board like a cork in a river.
My husband was predictably competent and with Tide's guidance was able to correct a few problems and surf alongside the kids.
Me, it helped that my expectations were somewhere south of zero. But I too managed to complete enough rides to be able to boast that I have surfed. I chose to enjoy the somewhat shocked exuberance and cheering of the rest of my family.
Thanks Tide and Kain for a fantastic family day. Highlight of our trip to Maui. And an important start at getting off the family sidelines.
Wendy C
Vancouver, Canada